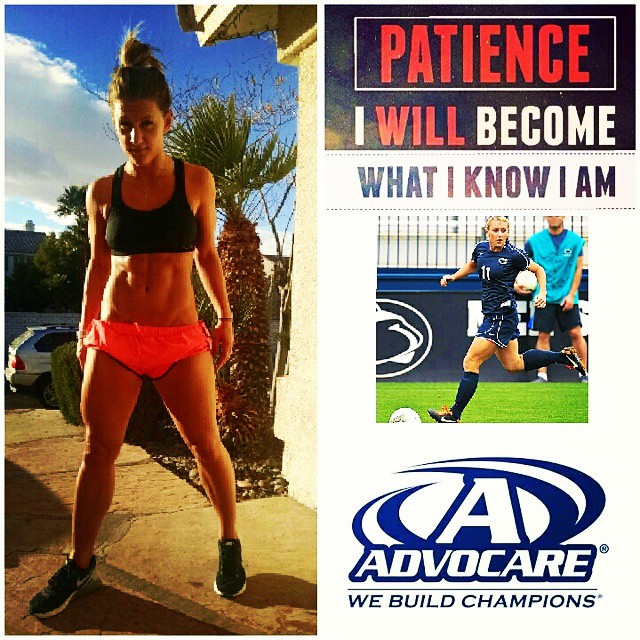 I want to LIGHT UP FINLAND when I go and be the BEST PLAYER in that Country!! Friends I'm starting another 24 DAY CHALLENGE on Monday. For me it's no longer about attaining the HOTTEST BODY, but more so to completely ENHANCE MY PERFORMANCE as an ELITE ATHLETE. I want to be ROCKET FUEL on the field.
I can honestly say ADVOCARE has changed my life. The products, that couple with pursuing a HEALTHY LIFESTYLE, have me in the BEST SHAPE OF MY LIFE. I'm grateful for that, but I'd also like to share my OUTLOOK ON LIFE has evolved since the introduction of Advocare. I have recommitted to my BIGGEST MOST WILD DREAMS and am attacking them with CLARITY and CONVICTION.
Through ADVOCARE I'm thinking bigger than only myself and have been able to HELP MY FRIENDS not only in achieving better health but a stronger CONNECTION to HOPE, INSPIRATION, and COURAGE.
I'm encouraging all my friends to join me in pursuing a 24 DAY CHALLENGE, not only to gain CONFIDENCE in your body, or to FEEL ENERGY that motivates you to participate in the joys of life, but to SET A GOAL and ACCOMPLISH IT, to feel SUCCESS and DARE TO DREAM BIGGER.
Before Advocare I was living small, but now I wake up every day with PURPOSE and its my intention to share this AWAKENING with you all, the people I LOVE.It's not about the vitamins. They are AMAZING and they work every time you follow the directions. It's about THAT FEELING INSIDE. THAT TRUST AND BELIEF IN YOURSELF.
I'm not usually one for super long posts, but I'm speaking from my heart. Wanting to spread this SMOLDERING PASSION. I don't care who you are, Message me. I'll coach you every step of the way. #43DaysToFinland #BigGoals #LockArmsWithMe #NeverGiveUpOnYourDreams #OrYourself #AnyoneCanDoThis #PullTheTrigger